The Corneal Crosslinking is a technique used for stopping Keratoconus development which is the progressive corneal slimming, this procedure is made in the surgery room and it consists in the application of Vitamin B2 on the sick cornea and then, the eye is exposed to UV light for 30 minutes.
The Crosslinking is a treatment that reinforces the weak corneal structure. This treatment strengthens the corneal collagen crosslinking. This process consists on fill up the tissue with Riboflavin, which is a substance, that sensitive the collagen and stimulates the creation and growth of new links between the long collagen chains with the irradiation of special light.
Figure: Corneal Crosslinking Procedure.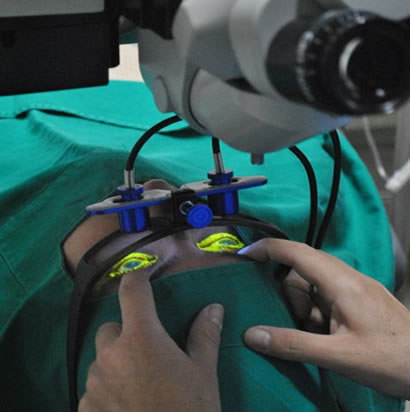 With the Corneal Crosslinking, the progressive corneal slimming is reduced until it is suspended. The biomechanical strength of the corneal tissue is improved and the progressive Keratoconus and ectasia can be stabilized. The follow up to the patients have not presented reduction on the corneal biomechanical stability and more than 50% of the patients have shown a reduction on the maximum cornea measurement.
The Keratoconus was former treated with a corneal replacement surgery, nowadays Laser Center Vision 20/20 has modern equipment to correct this problem in high percentages.
It is important to mention that this technique is focus on avoid the disease progress, stabilize and in certain cases, it reduces the cornea conic form. This means that this treatment is no focus, neither helping nor correct the Keratoconus patient sight problem.
This procedure has 40 minutes duration, is not much invasive due to takes the corneal epithelium for giving UV lights and vitamins. After resting on a recovery room, the patient can go home with a small eye sensibility that will last a couple days until it get normal.