Today we have the third generation of corneal Crosslinking to treat problems such as keratoconus, the Avedro KXL II is one of the most modern equipment with unique characteristics of its kind. The treatment is less invasive, the exposure time to ultraviolet light is considerably shorter and its results are more reliable. The KXL II even provides a certain degree of refractive correction in certain patients, which makes this equipment one of the most revolutionary in the treatment of corneal diseases.
Clinic  Sancho has a team of traditional Crosslinking, Accelerated Crosslinking and KXL II, which shows the evolution and ophthalmological update that characterizes our ophthalmological center.
What is Corneal Crosslinking?
Crosslinking is a technique used to stop the development of keratoconus, which is the progressive thinning of the cornea. This procedure is performed in the operating room and consists of the application of Vitamin B2 and Riboflavin on the diseased cornea, the same one that is exposed to ultraviolet light, for a few minutes.
This treatment strengthens the weakened corneal structure, strengthening the corneal collagen bonds. The process consists of saturating the tissue with a substance that sensitizes to collagen, riboflavin, stimulating the creation of new bridges or junctions between the long chains of collagen with the irradiation of a special light.
Figure: Corneal Crosslinking Procedure.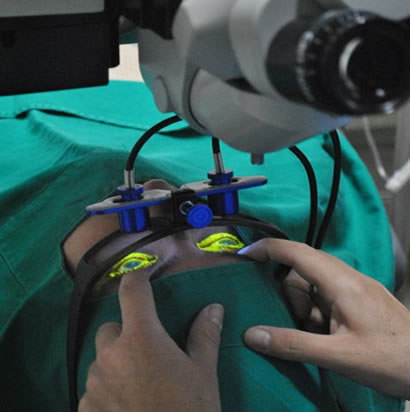 Crosslinking benefits
With Corneal Crosslinking, progressive corneal thinning is reduced and can even be stopped. The biomechanical strength of the corneal tissue improves, and progressive keratoconus and ectasia can be stabilized. Thus, the follow-up in patients has not shown any decrease in biomechanical corneal stability; and more than 50% of all patients showed a reduction in maximum keratometry (corneal conification).
Thus, Keratoconus until very recently was treated only with a corneal transplant; Nowadays, the modern equipment at Clínica Sancho and its ophthalmologists allow a high percentage of this condition to be corrected.
It is important to note that this technique focuses on preventing progress, stabilizing and in certain cases reducing the conification of the cornea. This procedure is not focused, nor does it help correct the vision of the keratoconus patient; however, with the KXL II it has been possible to show improvements in visual refraction in certain patients.
Procedure takes between 10 and 30 minutes depending on the technique used. Finally, it is considered not very invasive and the recovery of the patient is quite fast, being able to present in certain cases photophobia (sensitivity to light), which takes a couple of days to normalize.
We have cornea and anterior segment specialists who will provide the best service to your eyes.